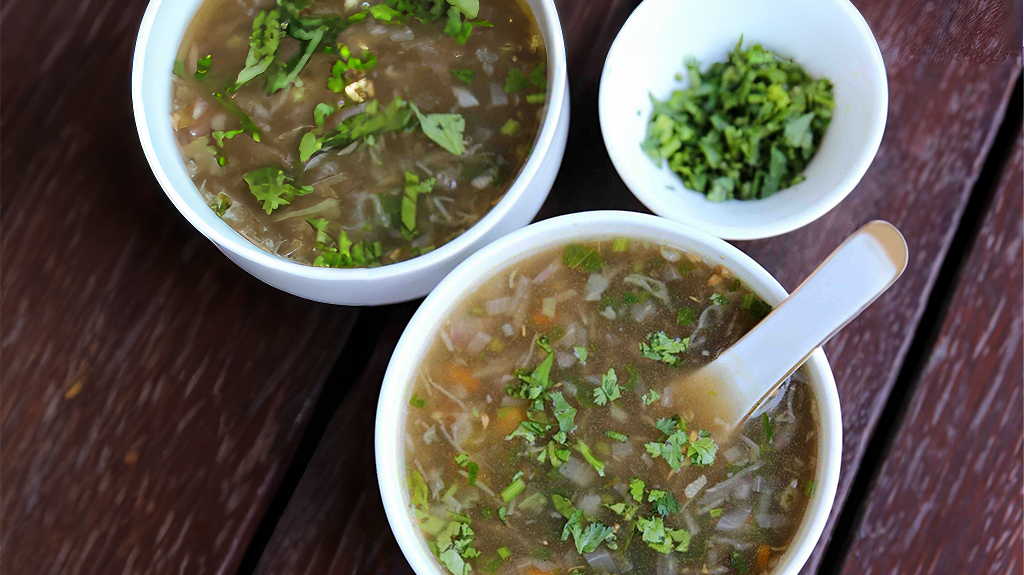 Yakni soup
After travelling by foot and jeep between Chitral and Gilgit over Shandur Pass, I needed food to regain strength. I had been suffering from amoebic dysentery, which was not the best preparation for a walk of over 100 miles in mountainous terrain. The result was that my weight plummeted.
I stayed in the Gilgit Tourist Cottage, where they served a wholesome meaty soup made with fine noodles and fresh coriander, which I ate most days, and gradually, I started to regain body weight. This Yakni soup recipe is the closest I can find to this soup.
In the Gilgit-Baltistan region, traditional Yakni soup is often made using a slow-cooking method that allows the flavours to develop and meld together.
Ingredients
1

pound

mutton (or beef)

(cut into small pieces)

1

cup

homemade or store-bought noodles

1

med

onion

(finely chopped)

2-3

cloves

garlic

(minced)

1-

inch

piece of ginger

(grated)

1

tsp

ground cumin

½

tsp

ground black pepper

1

cup

Fresh coriander leaves

1

tsp

Salt to taste
Instructions
In a large pot, heat some oil over medium heat. Add the chopped onions and sauté until they turn translucent.

Add the minced garlic and grated ginger to the pot. Sauté for a minute or until the raw smell disappears.

Add the pieces of mutton or beef to the pot and cook until they are slightly browned.

Pour enough water or broth into the pot to cover the meat. Bring the mixture to a boil and then let it simmer over low heat for about 1-2 hours, or until the meat is tender and the flavors are well infused.

Add the ground cumin, black pepper, and salt to taste. Adjust the seasonings according to your preference.

Add the noodles to the pot and cook until they are tender.

Stir in most of the fresh coriander leave

Serve the Yakni soup hot, garnished with remaining fresh coriander leaves for added freshness and flavour.
Notes
This authentic method of making Yakni soup allows the meat to tenderize and the flavors to develop fully, resulting in a rich and hearty soup that is perfect for warming up during the cold months.
---
---