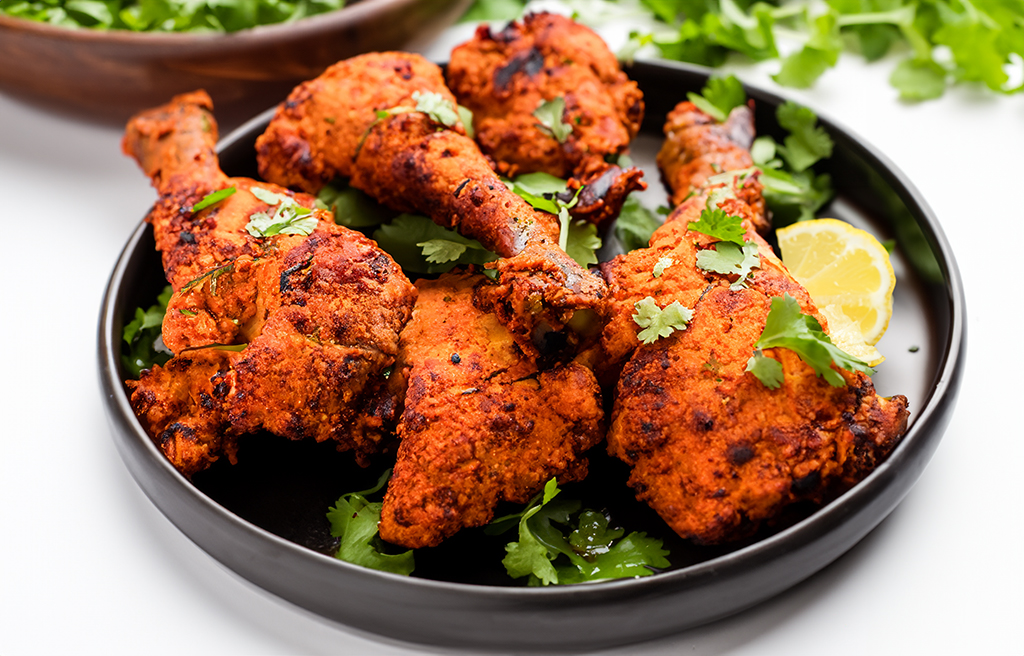 Tandoori chicken was one of the first Asian foods I tried to make in the early 1980s before I had travelled to India. At the time, using red food colouring was essential to produce something like the tandoori chicken seen in Indian restaurants. Since then, I have seen tasty chunks of chicken cooked on long skewers in tandoor ovens in India and saw no sign of red food colouring.
Tandoori chicken
Tandoori chicken is a popular Indian dish known for its vibrant color and rich, smoky flavors. Here's a traditional tandoori chicken recipe for you: Enjoy your delicious homemade tandoori chicken! Tandoori masala is a blend of various spices that contribute to the unique and authentic flavours of tandoori dishes.
Equipment
spice grinder

Large saucepan

Large bowl
Ingredients
Tandoori masala
1

tbsp

cumin seeds

1

tbsp

coriander seeds

1

tbsp

Kashmiri red chili powder

(for color)

1

tbsp

garam masala

1

tbsp

garlic powder

1

tbsp

ginger powder

1

tbsp

turmeric powder

1

tsp

fenugreek leaves

(kasuri methi)

½

tsp

cinnamon powder

½

tsp

cardamom powder

½

tsp

black pepper

½

tsp

cloves

½

tsp

nutmeg powder

½

tsp

red chili powder

1/4

teaspoon

ground fenugreek seeds

1

tsp

rock salt

(to taste)
Chicken
1

kg

free range chicken

(whole or cut into pieces)

1

cup

plain yogurt

1

tbsp

lemon juice

2

tbsp

Tandoori masala

a mix of spices including cumin, coriander, paprika, turmeric, cayenne, and more

½

tbsp

garlic

(minced)

½

tbsp

ginger root

(minced)

1

tsp

red chili powder

adjust according to your spice preference

1

tsp

cumin powder

1

tsp

coriander powder

¼

tsp

turmeric powder

1

tsp

garam masala

1

tbsp

vegetable oil

2

tsp

red food colouring

(optional)

tsp

Salt

(to taste)
Garnish
Chopped coriander

Lemon wedges
Instructions
In a pan, dry roast the cumin seeds, coriander seeds, and fenugreek leaves until they become fragrant. Let them cool.

Grind the roasted spices into a fine powder using a spice grinder or mortar and pestle.
Chicken
Wash the chicken pieces thoroughly and make 2-3 deep cuts in each piece to allow the marinade to penetrate.

In a large mixing bowl, combine the yogurt, lemon juice, Tandoori masala, ginger-garlic paste, red chili powder, cumin powder, coriander powder, turmeric powder, garam masala, vegetable oil, and salt. Mix well to form a smooth marinade.

Add the chicken pieces to the marinade, ensuring that each piece is evenly coated. Cover the bowl with plastic wrap or a lid and let it marinate in the refrigerator for at least 2-3 hours, or preferably overnight, to allow the flavors to develop.

Preheat your oven to 475°F (245°C) or prepare a red-hot charcoal barbecue grill. If you have a tandoor oven, you can use that for a more authentic experience.

Arrange the marinated chicken pieces on a baking tray lined with aluminum foil or place them on a wire rack set over a baking tray to allow the excess marinade to drip off.

Bake/grill the chicken for 25-30 minutes, or until the chicken is cooked through and slightly charred, flipping the pieces halfway through and basting with any leftover marinade.

Once cooked, remove the chicken from the oven and let it rest for a few minutes.

Garnish with chopped coriander and serve hot with lemon wedges, sliced onions, and mint chutney.
Notes
You can store the tandoori masala in an airtight container for up to a few months, ensuring that it remains fresh and potent for use in various tandoori dishes and marinades. Adjust the spice levels according to your preference and enjoy the authentic flavors of tandoori masala in your cooking!
---
---