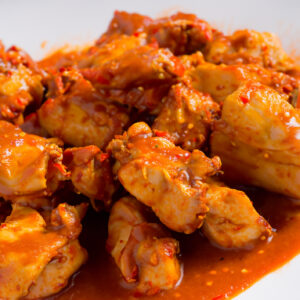 Bumburet chilli chicken
In 1987, I stayed in the village of Bumburet in northern Pakistan. My host's wife made a spicy chicken dish that was so delicious I asked him to get her recipe. My host relayed the recipe to me from his wife, and when I tried it at home, it was almost as good!
Bumburet Valley is nestled in the Hindu Kush mountain range, characterised by its lush greenery, sweeping landscapes, and the flowing waters of the Bumburet River. The valley is surrounded by snow-capped peaks, making it a breathtaking destination for nature enthusiasts and adventure seekers.
What sets Bumburet Valley apart is its inhabitants, the Kalash people. The Kalash are a unique indigenous group with their own language, culture, and religious beliefs, which are distinct from the dominant Islamic culture in Pakistan. The Kalash people are known for their vibrant festivals, cuisine, intricate handicrafts, and colourful attire, making the valley a cultural treasure.
Ingredients
1

large

free range chicken

tbsp

ghee

1

large

tomato

2

tsp

red chill powder

3

clove

garlic

(crushed and chopped)

large

onion

(diced)
Instructions
Make a sauce with a sauce made with garlic, chilli powder, onions and one tomato fried in ghee

Skin and chop the chicken into bite-sized pieces.

Add the chicken to the sauce and bake in a hot oven.

From time to time, take the chicken out of the oven, stir the dish and add water to the sauce when required.
---
---