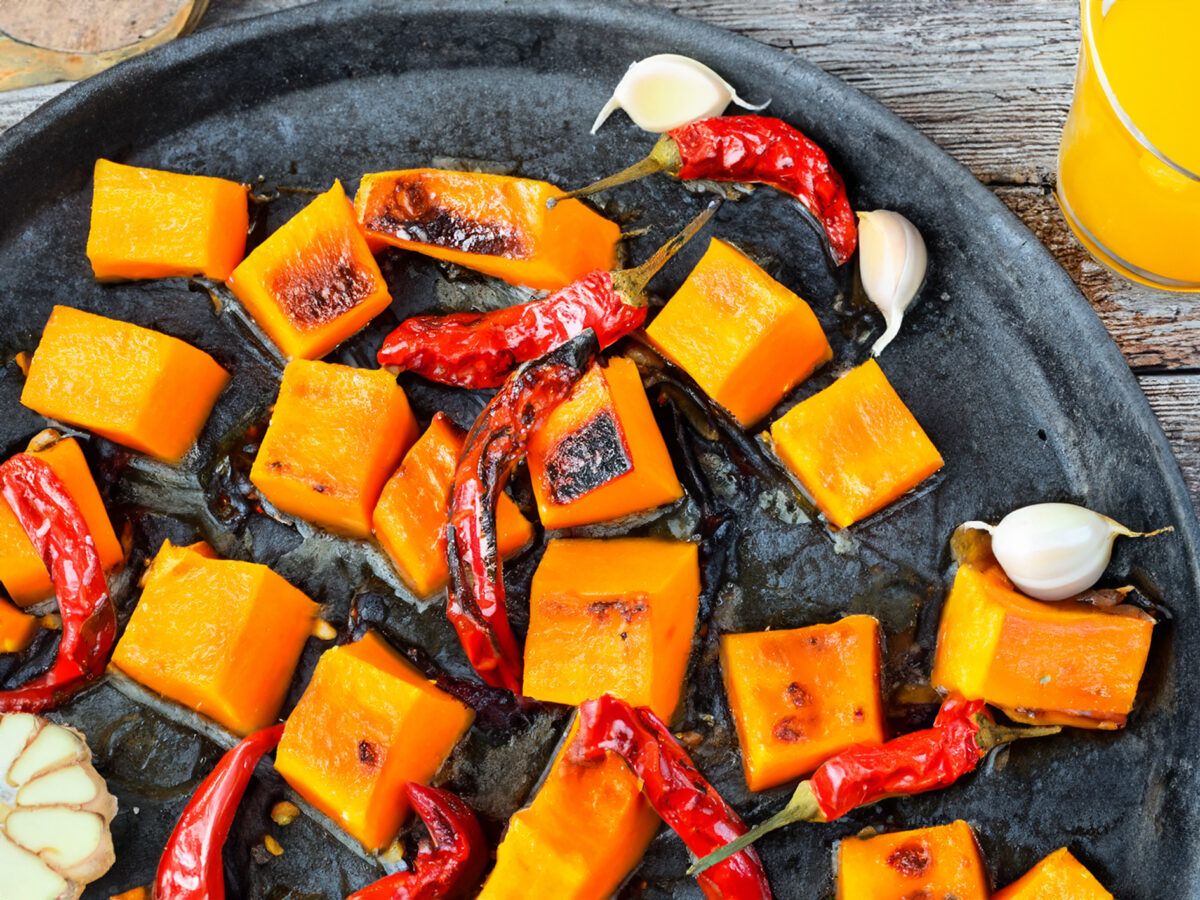 Warming baked butternut squash
---
Warming baked butternut squash
Baked butternut squash with ginger, garlic, and orange juice is a delightful dish that brings together a combination of sweet and savoury flavours. Here's a simple and delicious recipe for you:
This dish is not specific to any one region but draws on flavours that are popular in many culinary traditions. Butternut squash is a versatile ingredient that can be prepared in numerous ways, and the combination of ginger, garlic, and orange juice adds a delicious and unique twist to this dish.
I first cooked this when I lived in Rugby
Ingredients
1

item

medium butternut squash

2

cloves

garlic

(minced)

1

tablespoon

fresh ginger

(finely grated)

1/4

cup

fresh orange juice

2

tablespoons

olive oil
Seasoning
1

tsp

Black pepper

(to taste)

1

tsp

Rock salt

(to taste)
Garnish
2

tablespoons

fresh parsley

chopped (for garnish, optional)
Instructions
Preheat your oven to 200°C.

Cut the butternut squash in half lengthwise and remove the seeds with a spoon. Peel the skin off the squash with a vegetable peeler.

Cut the squash into 1-inch cubes or wedges, depending on your preference.

In a small bowl, mix together the minced garlic, grated ginger, orange juice, and olive oil.

Place the butternut squash cubes in a large bowl and pour the ginger-garlic-orange juice mixture over the squash. Toss the squash until it is evenly coated with the mixture.

Spread the squash out on a baking sheet in a single layer.

Season with salt and pepper to taste.

Bake in the preheated oven for 25-30 minutes, or until the squash is tender and caramelized around the edges, turning the pieces halfway through the cooking time.

Once the squash is cooked, remove it from the oven and transfer it to a serving dish.

Garnish with fresh parsley, if desired, and serve warm.

This dish is a perfect side for an autumn or winter meal and pairs well with roasted meats or as a standalone vegetarian option. Enjoy your baked butternut squash with ginger, garlic, and orange juice!
---
---