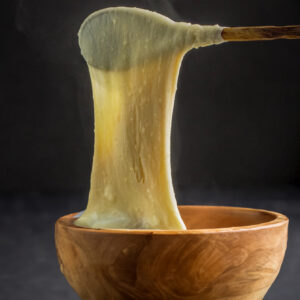 Aligot
Aligot is a delightful French dish from the Auvergne that combines mashed potatoes with cheese, resulting in a rich, creamy, and stretchy texture. It's a comfort food that's perfect for colder weather.
When I was seventeen, I joined some French friends from Rouen for a walking holiday in the Gorges du Tarn in southern France. In one small town (or was it a village), we ate dinner in a local cafe and were puzzled by the slowness of the service - not just for us but all diners. Just before the main course was served, the cook appeared with what looked like an old tin bath filled with a white, steaming cheesy dough. He held a pair of wooden tongs in one hand and stopped at every table to pull a stringy strand of 'dough' from the tin bath, which he cut off with a pair of scissors. He then cut off a lump of 'dough' onto the head of each male at each table while making a big speech in French, which I did not understand. I asked my friends to explain, but they had not understand his thick southern French accent either, so I never did find out what was behind this strange ritual. All they could tell me was that the 'dough' was called Aligot. At least, I learned the reason for the slow service, which was to get all diners ready for the Aligot experience.
Ingredients
1

kg

Maris Piper potatoes

(peeled and chopped into chunks)

2

cloves

garlic

(minced)

300

ml

creme fraiche

(or double cream)

125

g

butter

150

g

grated cheese

(Tomme d'Auvergne or Tomme de Laguiole)
Seasoning - to taste
1

tsp

rock salt

1

tsp

black pepper
Instructions
Boil the potatoes in a large sauce of salted water until they are tender. Drain the water and return the potatoes to the pot.

Add most of the minced garlic, creme fraiche (or double cream), and butter to the saucepan with the potatoes. Mash everything together until smooth.

Place the pot over low heat and slowly add the grated cheese while stirring continuously in one direction.

Keep stirring until the cheese is completely melted and the mixture has a smooth and stretchy texture.

Season with salt and pepper to taste.

Mix some of the remaining garlic some creme fraiche and serve separately as a dip
Notes
Serve the aligot as a side dish with sausages, grilled meats, or as a comforting meal on its own. Enjoy this creamy and cheesy French delicacy!
---
---