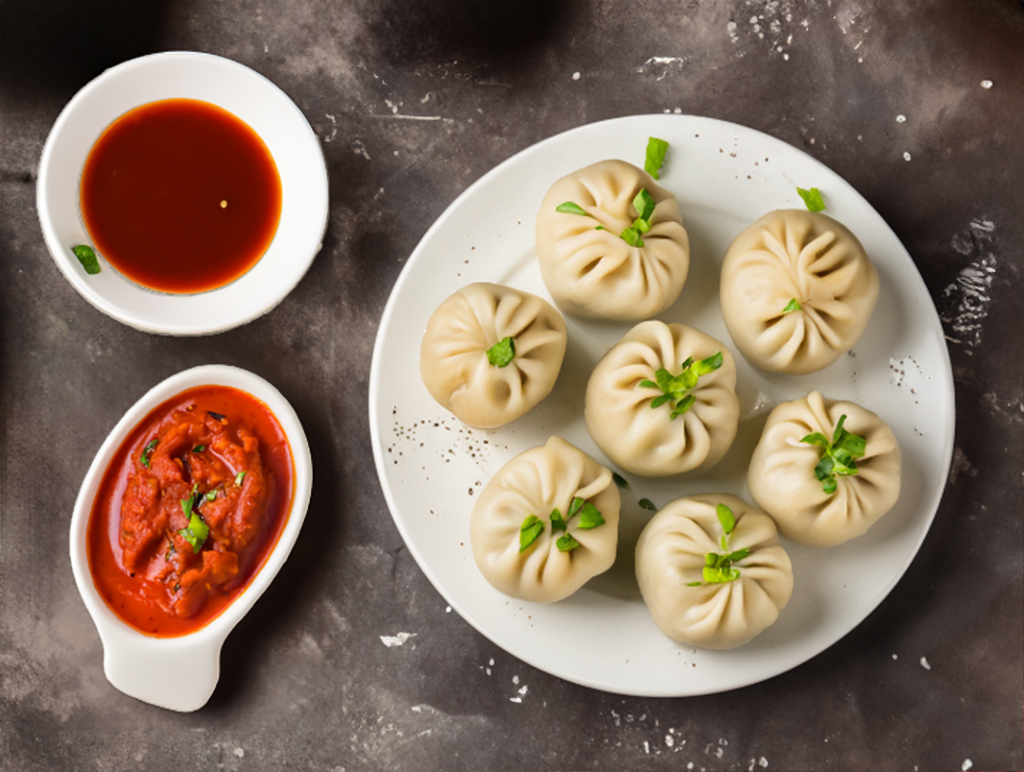 Tibetan momo
Tibetan momo is a kind of filled dumpling, which is also called "mog mog" in Tibetan. The Tibetan people deeply love it. The size and shape of Tibetan momo are like walnuts, with swirls on the top. They look neat and beautiful. They're a bit similar to dumplings in northern China, but the taste is different. Momo is a popular food in Tibet, Nepal and India. 
I spent two months in Tibet in 1987 and consumed many momos, usually made with yak meat. The momos made a pleasant change from the ubiquitous Yak burgers that were also on offer. As yak meat is not much different from beef, substituting beef for yak in the recipe would work well.
Vegetarian fillings were also available and equally delicious.
Equipment
2 large bowls

blender

steamer
Ingredients
Dough
2

cups

plain flour

½

tsp

rock salt

Water

(as needed)
Filling
500

g

ground yak (or beef)

(yak is more traditional)

1

small

onion

(finely chopped)

2

clove

garlic

(minced)

2.5

cm

fresh ginger

(minced)

½

cup

fresh coriander leaves

(finely chopped)

1

tsp

ground cumin

1

tsp

ground coriander

½

tsp

rock salt

(to taste)

½

tsp

black pepper

(to taste)
Dipping sauce
½

cup

tomato sauce

¼

cup

soy sauce

2

clove

garlic

(minced)

1

tsp

chili powder

1

tbsp

sesame oil

1

tbsp

rice vinegar
Chutney
6

dried-red Kashmiri Chillies

2

large

tomatoes

1½

tsp

sugar

5

clove

garlic

½

tsp

rock salt

(to taste)

½

tsp

black pepper

(to taste)

2

tbsp

rice vinegar
Instructions
Dough
In a large bowl, combine the flour and salt. Gradually add water and knead until you have a smooth, elastic dough. Cover the dough with a damp cloth and let it rest for about 30 minutes.
Filling
In a separate bowl, mix the ground yak or beef, onion, garlic, ginger, coriander, cumin, coriander, salt, and pepper until well combined.

Heat a tablespoon of vegetable oil in a pan over medium heat. Add the meat mixture and cook until the meat is browned and cooked through. Allow the filling to cool.

Divide the dough into small, golf ball-sized portions. Roll each portion into a thin, circular wrapper, making the center slightly thicker than the edges.

P Place a heaped tablespoon of filling at the centre and start pleating the edges. Join all the pleats at the centre and gather all the ends so they are sealed and look like a tiny bundle.

Arrange the momos on a steamer lined with parchment paper or cabbage leaves, leaving some space between them to prevent sticking. Steam for about 20-25 minutes, or until the dough is cooked through and the filling is heated.
Dipping sauce
While the momos are steaming, prepare the dipping sauce by mixing the tomato sauce, soy sauce, minced garlic, chili powder, sesame oil, and vinegar in a bowl.
Chutney
Blanch the tomatoes and dried chillies. Put them in a blender, add sugar, salt, garlic and vinegar. Turn it into a paste and serve.
Serving
Serve the momos hot, with the dipping sauce and chutney on the side.
Notes
These authentic Tibetan momos may take a bit more time and effort to prepare, but the result is a delicious and traditional Tibetan dish that captures the true flavors of the region. Enjoy!
---
---