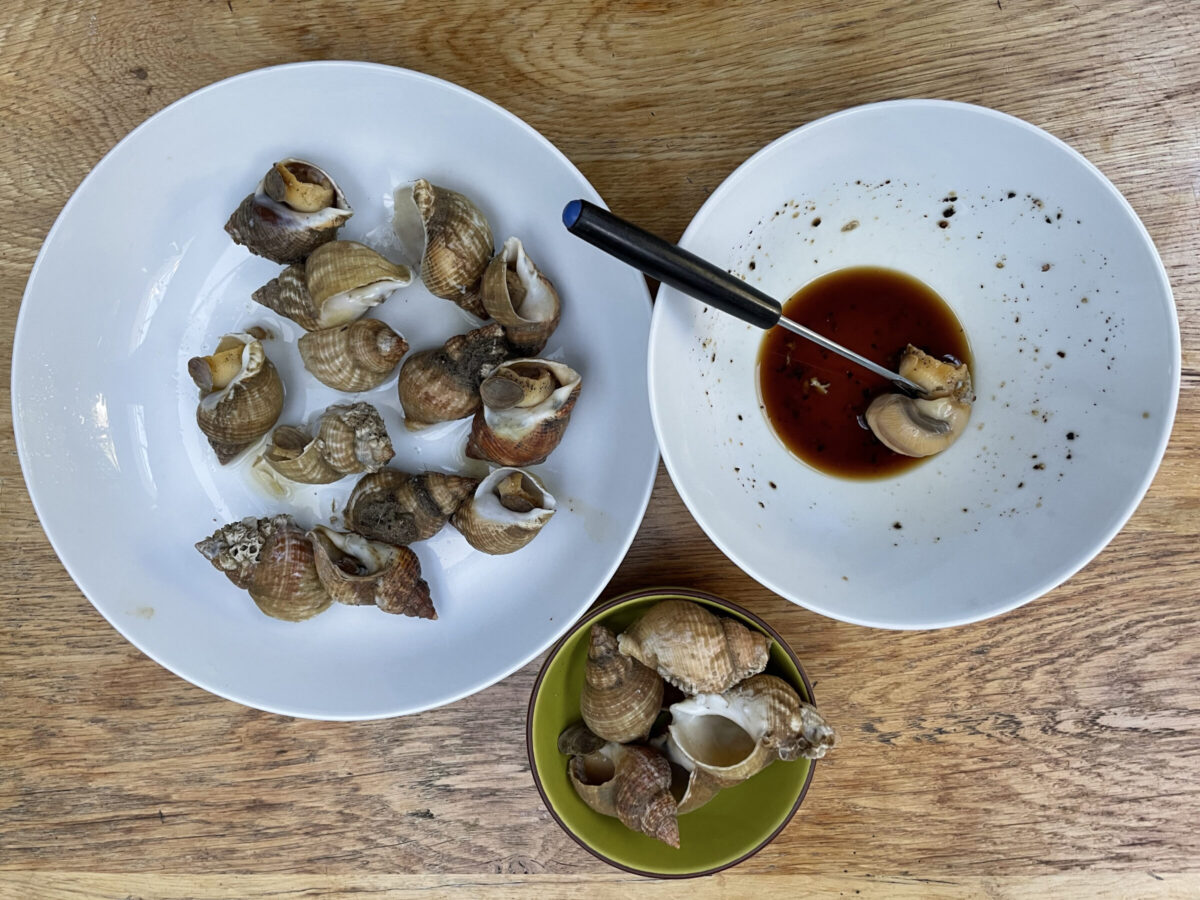 Fresh whelks
Whelks are a type of sea snail commonly consumed in various parts of the world, including the United Kingdom, France, and South Korea. They are known for their firm texture and have a slightly sweet, briny flavour. In the UK, whelks are often enjoyed as a popular seafood delicacy.
While they might not be as popular as some other types of seafood, whelks are appreciated by many for their unique taste and texture. If you enjoy trying different kinds of seafood, it might be worth giving whelks a try to see if you like their flavour and texture.
Exports of British whelks to the Far East have been increasing because the whelks' texture and consistency make them a fine substitute for the warmer water conch species, now rare and fiercely expensive as a result of overfishing. Japanese and Korean chefs, in particular, prize British whelks.
I think they are delicious!
Ingredients
1

kg

fresh whelks

2

litre

water

2

tbsp

salt
Dipping sauce
2

tbsp

Light soya sauce

optional

1

tbsp

rice vinegar

1

tsp

black pepper

(freshly ground)

1

red chilli

(chopped)
Instructions
Preparing the whelks
Start by thoroughly cleaning the fresh whelks under cold running water to remove any debris or sand. You can use a brush to scrub the shells and remove any dirt.

Leave to soak in cold water for ten minutes.
Cooking the whelks
In a large pot, bring water to a rolling boil. Add a generous amount of salt to the water. For every litre of water, you can add approximately 2 tablespoons of salt.

Once the water is boiling, carefully add the whelks to the pot. Allow the whelks to cook for about 5-8 minutes, or until the shells open and the meat is fully cooked. The whelks are ready when the meat can be easily removed from the shell.
Drain and cool
Use a slotted spoon to remove the whelks from the pot and drain them. Let them cool slightly before handling.
Serve
Mix the rice vinegar, soya sauce and ground black pepper in a bowl

Serve the whelks on a platter with the dipping sauce on the side. You can also serve them with melted butter or garlic butter for dipping.
Notes
It's important to ensure the whelks are thoroughly cooked. However, overcooking can make the meat tough and rubbery, while undercooking can make it difficult to remove from the shell. Adjust the cooking time depending on the size and type of whelks you are using.
---
---