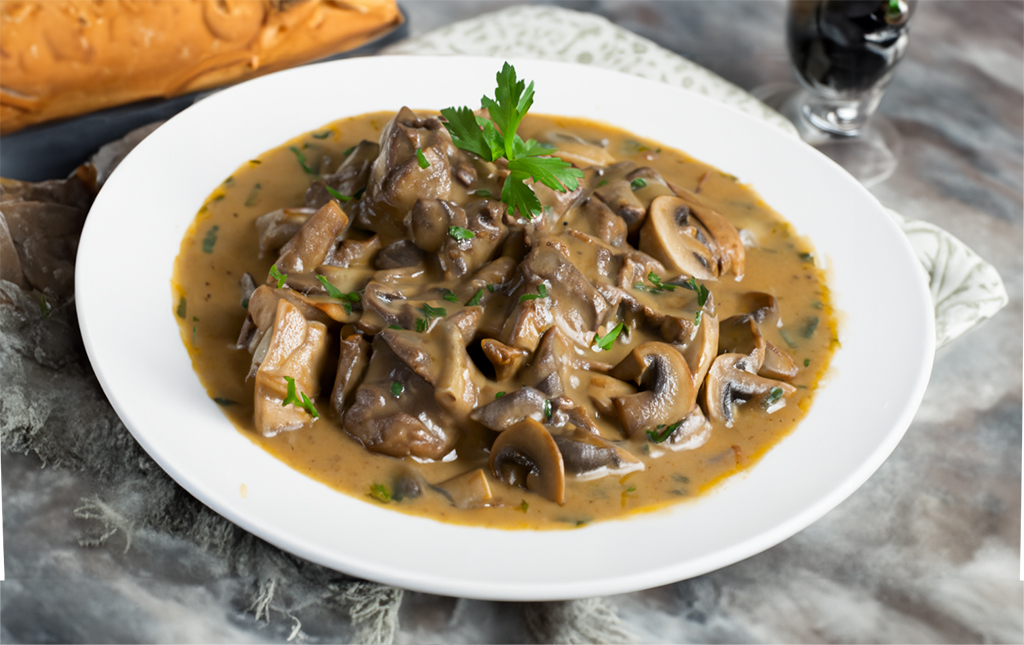 Kudu in cream sauce
Having hired a 4-wheel drive vehicle, we were driving around Namibia. One night, we stayed in a remote lodge that only had Kudu meat on the menu. This was a problem as the only meat my five-year-old son would eat was chicken.
The greater kudu (Tragelaphus strepsiceros) is found throughout central & northern Namibia and is the second tallest antelope on the African continent. Kudu bulls bear long, spiral horns which reach record lengths of up to 1.8m. Horns grow to their full length at the age of six years.
As we had been travelling all day, he needed to eat something, so I told him that the Kudu was chicken, which he ate without complaining. At the end of the meal, he looked at me sternly and said, "Dad, I know that chicken was Kudu". Ouch!
Here is a delicious recipe for Kudu in a creamy mushroom sauce that matches my memory of that meal:
Ingredients
4

Kudu steaks

(250 g each)

1

tsp

rock salt

(to taste)

1

tsp

freshly ground black pepper

(to taste)

2

tbsp

olive oil

2

tbsp

butter

1

shallot

(finely chopped)

2

cloves

garlic

(minced)

8

ounces

mushrooms

(sliced)

1

cup

double cream

½

cup

beef or game stock

1

tsp

Dijon mustard
Garnish
1

tsp

Fresh parsley

(chopped)
Instructions
Season the kudu steaks with salt and pepper on both sides.

Heat the olive oil in a large skillet over medium-high heat. Add the kudu steaks and sear for 3-4 minutes on each side for medium-rare, or to your desired level of doneness. Remove the steaks from the skillet and set them aside on a plate.

In the same skillet, melt the butter over medium heat. Add the chopped shallot and garlic, and sauté until they become fragrant and translucent.

Add the sliced mushrooms to the skillet and cook until they are golden brown and have released their juices.

Pour in the heavy cream and beef or game stock. Stir in the Dijon mustard and let the sauce simmer and reduce for a few minutes until it thickens slightly.

Season the sauce with salt and pepper to taste.

Return the seared kudu steaks to the skillet, nestling them into the creamy mushroom sauce.

Allow the steaks to heat through for a minute or two in the sauce.

Garnish with chopped fresh parsley before serving.
Notes
Serve the kudu in creamy mushroom sauce with your choice of sides such as mashed potatoes, roasted vegetables, or a fresh salad. Enjoy the rich and flavorful combination of tender kudu meat with the creamy mushroom sauce.
---
---