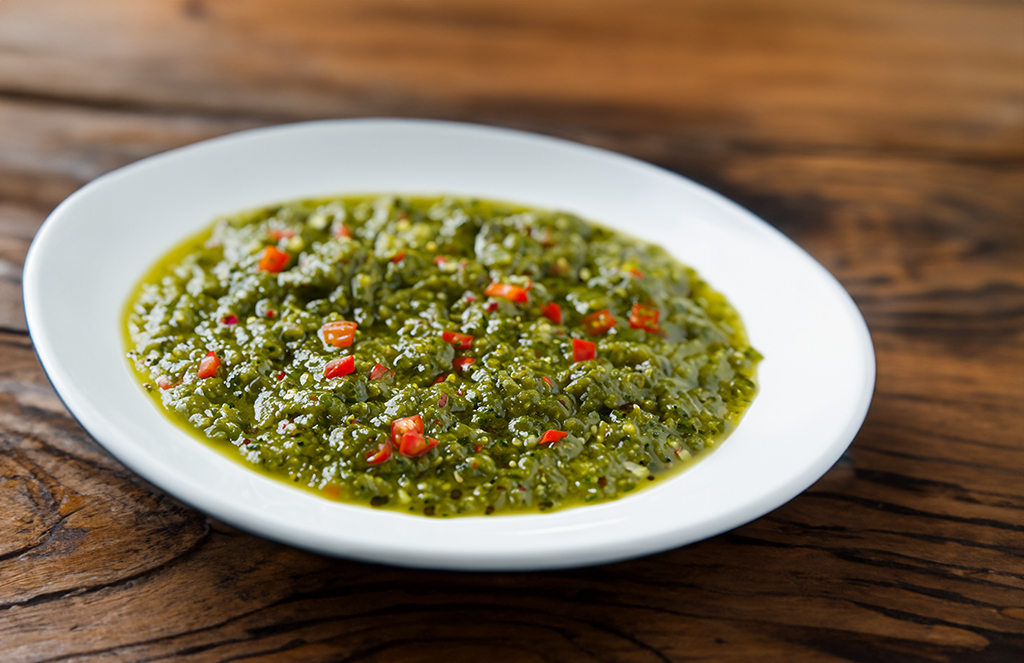 Argentinian chimichurri
This was a business trip that was memorable because of the hospitality of our hosts. They took me and a colleague from the UK to watch a football match between the two rival local teams – River Plate FC and Boca Juniors.
Superclásico is the football match in Argentina between Buenos Aires rivals Boca Juniors and River Plate. It derives from the Spanish usage of "clásico" to mean derby, with the prefix "super" used as the two clubs are the most popular and successful clubs in Argentine football. In fact, the term 'Clásico' originated in Argentina, particularly with this match up and it was later exported to other countries such as Spain and Mexico. According to some statistics, they command more than 70% of all Argentine football fans between them.
The game was a draw. Our hosts warned us that fans from the visiting team often engage in destructive behaviour, such as setting off flares, fireworks, or smoke bombs in and around the stadium. We left the stadium as quickly as possible at the end of the game to avoid encountering such behaviours and found a restaurant where we had an early Argentinian dinner.
Having chosen which grilled cuts of cow we were going to eat, Arthur asked what vegetables were on offer. Our host giggled and informed him that real Argentinian men did not eat vegetables.
The meat was beautifully grilled, with a rich, beefy flavour, succulent texture, and a notable level of marbling, which adds to its tenderness and juiciness. The chimichurri served with the meat made this one of the best meals I have ever had.
Here's a classic recipe for authentic Argentinian chimichurri:
Equipment
Large bowl

Air tight container
Ingredients
1

cup

fresh flat-leaf parsley

(finely chopped)

4

clove

garlic

(minced)

½

cup

extra-virgin olive oil

¼

cup

red wine vinegar

2

tbsp

fresh oregano leaves

(finely chopped or 2 tsp dried oregano)

2

tsp

red pepper flakes

(or chopped red chilli)
Seasoning - to taste
1

pinch

rock salt

1

pinch

black pepper
Instructions
Combine the finely chopped parsley, minced garlic, and red pepper flakes in a mixing bowl. Replace the red pepper flakes with chopped red chills as required for a spicier version.

Add the red wine vinegar and mix well. Let it sit for a few minutes to allow the flavours to meld.

Gradually add the extra-virgin olive oil while stirring the mixture to emulsify the sauce.

Add the chopped oregano and season with salt and black pepper to taste.

Mix the ingredients until well combined.
Sitting time
Let the chimichurri sit for at least 30 minutes before using to allow the flavors to fully develop. You can also refrigerate it in an airtight container for a few hours or overnight for even better flavor.
Notes
Argentinian chimichurri is a versatile sauce that pairs exceptionally well with grilled meats, including steaks, sausages, and other barbecue dishes. Drizzle it over the grilled meat or use it as a marinade or dipping sauce to enhance your culinary experience with the authentic flavors of Argentina.
---
---