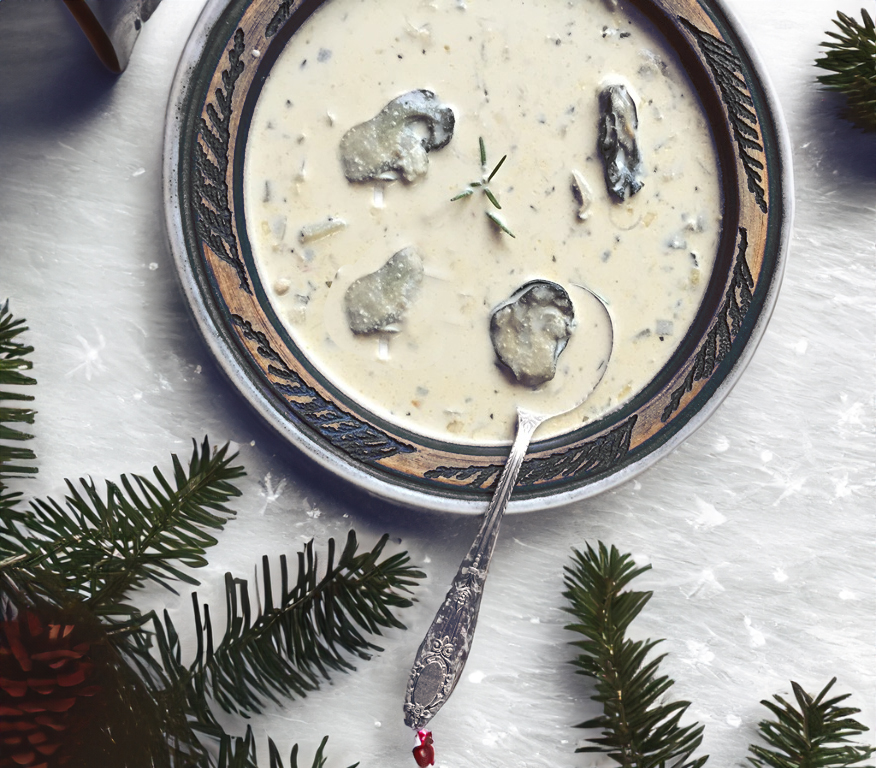 Norwegian Oyster Stew
I was introduced to this 'Norwegian' Oyster Stew by an American friend from Wisconsin as a traditional Christmas Eve dish.
The stew is a delicious seafood dish that combines the rich flavours of oysters with a creamy, savoury broth.
However, while Norway is known for its rich seafood culture, including various preparations of fish, shellfish, and other marine delicacies, oyster stew is not a traditional or commonly known dish in Norwegian cuisine. Norwegian culinary traditions are more closely associated with dishes like various types of cured and smoked fish, as well as preparations of salmon, herring, and other seafood sourced from the region's abundant coastal waters. It is a traditional dish in Wisconsin.
Ingredients
1

litre

fresh oysters,

(shucked, with their liquid)

60

g

unsalted butter

1

med

onion

(finely chopped)

2(

stalks of celery

(finely chopped)

1

litre

whole milk

236

ml

double cream
Seasoning - to taste
tsp

rock salt

1

tsp

black pepper
Garnish
Fresh parsley

chopped, for garnish
Instructions
In a large saucepan, melt the butter over medium heat. Add the chopped onion and celery and cook until they are soft and translucent.

Add the oyster liquid (strained to remove any shell fragments) to the saucepan and bring it to a simmer.

Pour in the whole milk and heavy cream, stirring constantly to combine all the ingredients. Allow the mixture to simmer for a few minutes, ensuring it doesn't boil.

Gently add the shucked oysters to the pot. Let them cook for about 3-5 minutes or until the edges begin to curl. Avoid overcooking the oysters, as they can become tough.

Season the stew with salt and pepper to taste. Be cautious with the salt, as the oysters themselves may add some natural salinity to the stew.

Ladle the stew into individual serving bowls and garnish each portion with some freshly chopped parsley.

Serve the 'Norwegian' Oyster Stew hot, accompanied by some crusty bread or crackers for dipping.
---
---