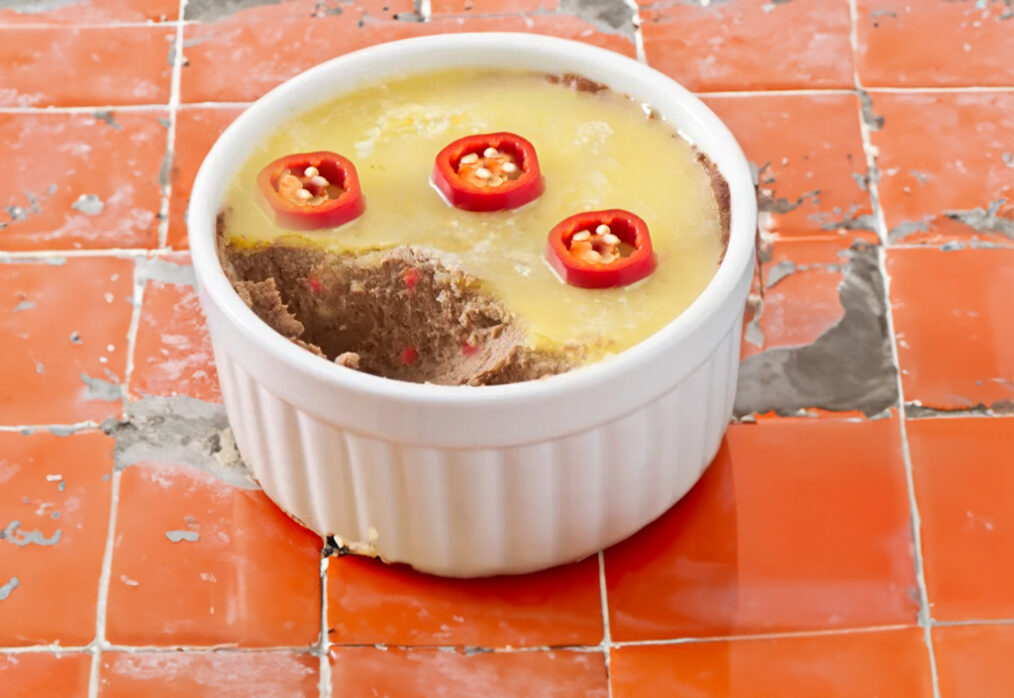 Spicy chicken-liver pâté
Many years ago, one of my friends in Buckinghamshire gave me the basis for this recipe. In those days, we used ginger powder and would not have thought about using red chillis to give the pâté a bit of zing. Times have changed, so I have modified the original recipe accordingly.
This chicken liver pâté is a delicious and flavorful appetiser that combines the rich taste of chicken livers with the warmth of ginger and red chilli:
Equipment
1 Large cast iron frying pan
Ingredients
600

g

fresh chicken livers

(trimmed and cleaned)

1

small

onion

(finely chopped)

3

clove

garlic

(minced)

2

whole

red chillis

1

tbsp

fresh ginger

(grated)

½

unsalted butter

¼

cup

cognac
Seasoning - to taste
1

pinch

rock salt

tsp

black pepper
Garnish
2

tbsp

garlic butter

1

whole

red chilli

sliced
Instructions
Rinse the chicken livers under cold water and pat them dry with paper towels. Remove any connective tissue or greenish parts.

In a large cast iron frying pan, melt 2 tablespoons of butter over medium heat. Add the chopped onions and cook until they are soft and translucent. Add the minced garlic, red chilli and grated ginger, and sauté for another 1-2 minutes until fragrant.

Add the chicken livers to the cast iron frying panand cook them for about 5-7 minutes, turning them halfway through. They should be cooked through but still slightly pink in the centre.

Carefully add the cognac to the cast iron frying pan and allow it to simmer for a minute or two. This will deglaze the pan and add a depth of flavour to the pâté. Be cautious, as the alcohol may ignite briefly.

Transfer the cooked livers and sautéed ingredients to a food processor. Add the remaining butter and process until smooth.

Season with salt and pepper to taste.

Spoon the mixture into ramekins or a dish, smoothing the top with a spatula.

Seal with a layer of melted garlic butter and garnish with slices of red chilli.

Refrigerate for at least a few hours or overnight to allow the flavours to meld and the pâté to set.

Before serving, let the pâté come to room temperature for the best flavor and texture.

Serve this Spicy chicken liver pâté on a baguette, crusty bread or crackers.
Notes
This chicken liver pâté with ginger has a rich, savory flavor with a hint of warmth from the ginger. Adjust the seasoning and ginger to your liking, and feel free to get creative with the presentation and accompaniments.
---
---