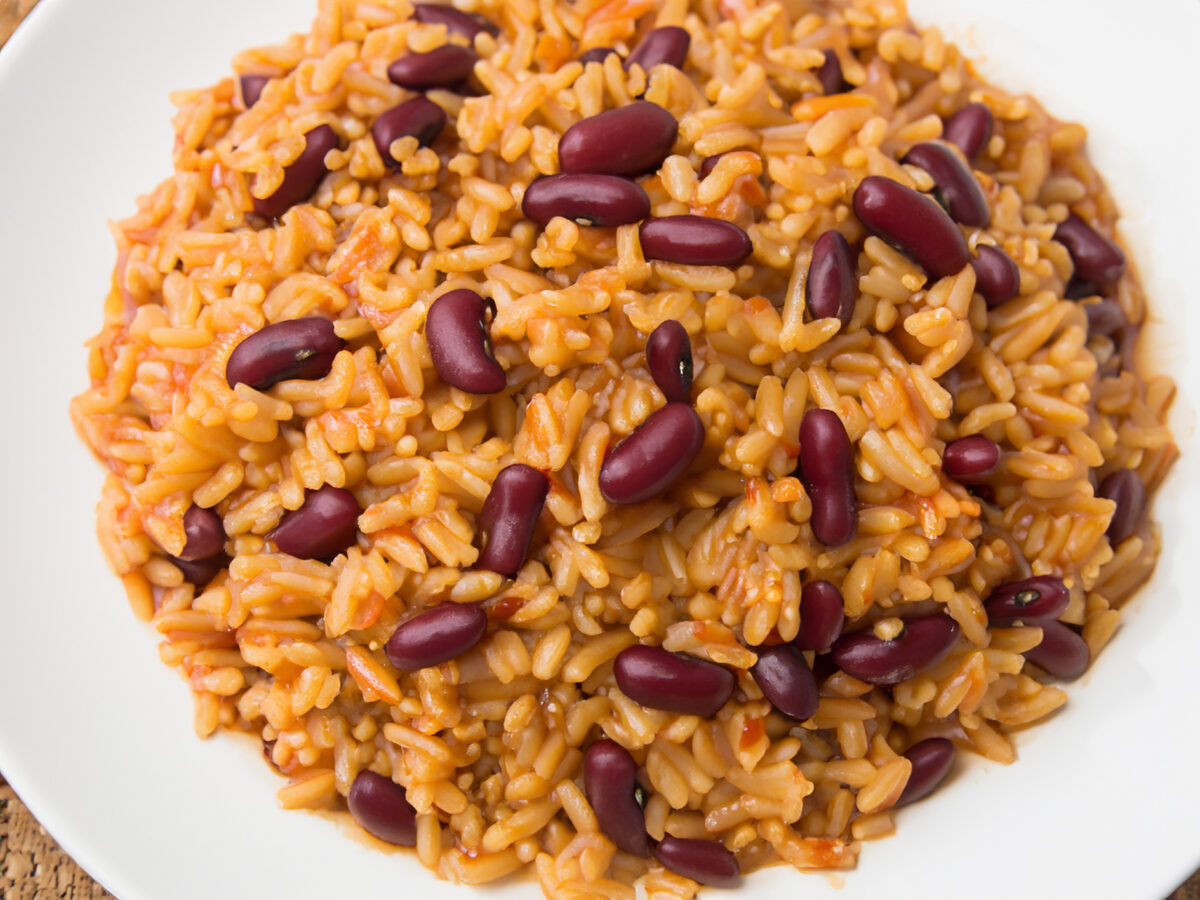 The first time I cooked this, I was feeding some West Indian friends. They were very polite and did not comment on my use of 'peas' instead of 'kidney beans'. I live and learn.
Rice and peas
This aromatic and flavorful rice and peas dish is a staple in Caribbean cuisine and pairs exceptionally well with many West Indian dishes.
In many Caribbean recipes, "peas" refers to legumes such as kidney beans rather than actual peas. The classic Caribbean dish "rice and peas" traditionally uses kidney beans.
Ingredients
1

cup

long-grain rice

(jasmine or basmati)

1

cup

coconut milk

1

cup

chicken broth

(or water)

1

tin

red kidney beans

(or 1 ½ cups cooked kidney beans)

1

small

onion

(finely chopped)

2

cloves

garlic

(minced)

1

sprig

fresh thyme

(or 1 teaspoon dried thyme)

1

scotch bonnet pepper

(or habanero pepper)

2

tbsp

vegetable oil
Seasoning - to taste
1

tsp

rock salt

1

tsp

black pepper
Instructions
In a medium-sized saucpan, heat the vegetable oil over medium heat. Sauté the chopped onion and minced garlic until the onion becomes translucent and the garlic is fragrant.

Add the rice to the sauce and stir for a couple of minutes until the rice grains are well coated with the oil and begin to toast slightly.

Pour in the coconut milk and water or chicken broth, and add the thyme and whole scotch bonnet pepper. Season with salt and pepper to taste. Bring the mixture to a boil.

Reduce the heat to low, cover the pot, and let the rice simmer for about 15 minutes. Avoid stirring the rice during this time to prevent it from becoming sticky.

After 15 minutes, add the red kidney beans to the rice, gently stirring them into the mixture. Continue to cook for an additional 5-10 minutes, or until the rice is fully cooked and the liquid has been absorbed.

Once the rice is cooked, fluff it with a fork and remove the scotch bonnet pepper if you prefer less heat.

Serve the rice and peas alongside your jerk chicken or other main dishes, garnishing with fresh thyme if desired.
---
---