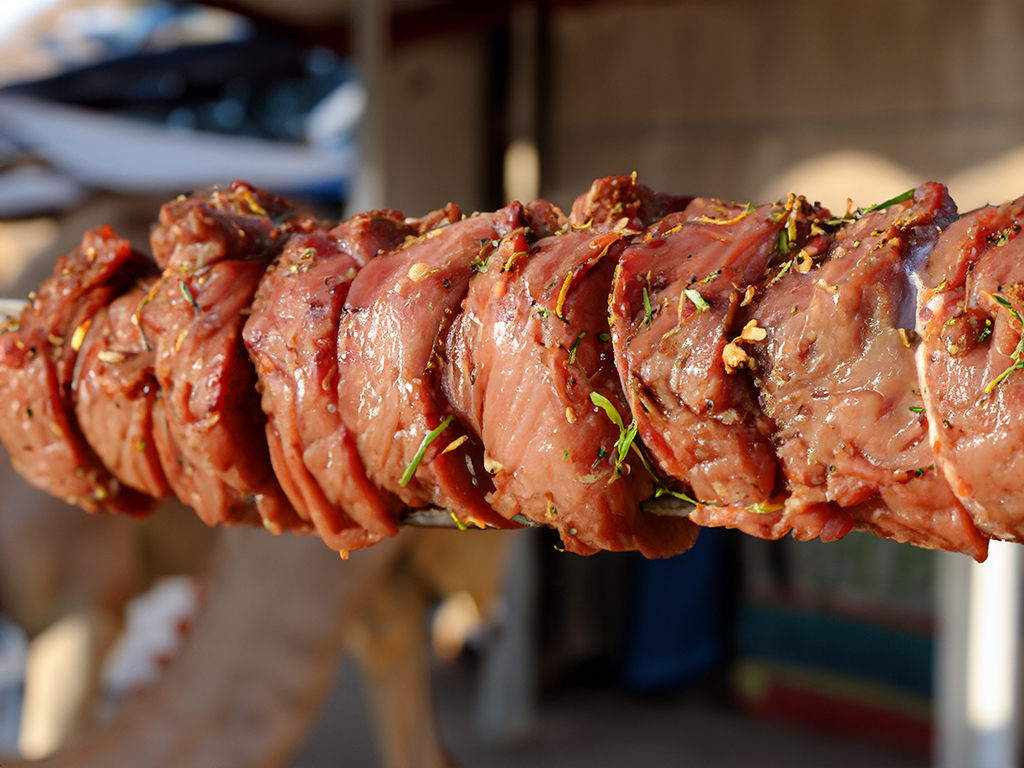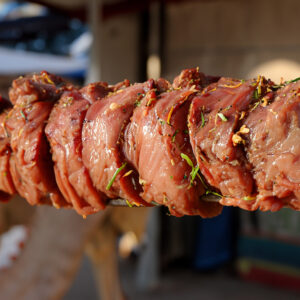 Hilib Ari
Somaliland, a self-declared independent state, is known for its rich culinary traditions, often incorporating locally available ingredients such as camel meat, which is a staple in many dishes. One of the popular dishes featuring camel meat is "Hilib Ari," a traditional Somali grilled camel meat recipe.
My visit in December 2019 also taught me not to try camel milk before a long journey. My hosts suggested it would have had a laxative effect. When we got back from the long drive from Hargeisa to Berbera (and back), I tried camel milk tea and noticed no particular 'side effects'.
Equipment
Large bowl

Grill or barbecue
Ingredients
1

kg

camel meat

(cut into chunks or cubes)

2

large

onions

(finely chopped)

4

cloves

garlic

(minced)

1

tsp

cumin

1

tsp

coriander

1

tsp

paprika

1

tsp

turmeric

3

tbsp

of olive oil or any cooking oil
Garnish
Fresh lemon juice

Fresh coriander or parsley
Instructions
In a large bowl, combine the camel meat chunks with the chopped onions, minced garlic, cumin, coriander, paprika, turmeric, salt, pepper, and olive oil. Mix well to ensure the meat is evenly coated with the spices. Let the mixture marinate for at least 30 minutes, or preferably overnight, in the refrigerator.

Prepare your grill or barbecue to medium-high heat.

Thread the marinated camel meat onto skewers, ensuring the pieces are packed closely together.

Grill the skewers for about 10-15 minutes, turning occasionally, until the meat is cooked to your desired level of doneness. Make sure not to overcook the meat as it can become tough.

Once the meat is cooked, remove it from the grill and let it rest for a few minutes.

Squeeze fresh lemon juice over the grilled camel meat for added flavor.

Garnish with fresh cilantro or parsley.

Serve the Hilib Ari hot with your choice of side dishes like rice, chapati, or Somali flatbread (canjeero).
---
---