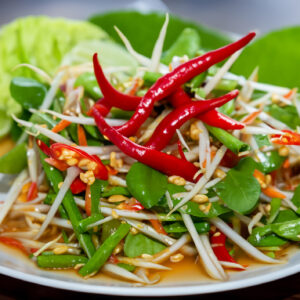 Som Tam
This Som tam recipe is the Thai version of the Laotian dish tam mak hoong and is similar to the Cambodian dish bok l'hong. Pronounced [sôm tam]) and also known as tam mak hoong (Isan: ตำบักหุ่ง, pronounced [tam bàk hùŋ]) is a spicy salad of Lao origin, the standard form of which is made from shredded unripened papaya.
It is also known as green papaya salad and is made from shredded unripe papaya. The other key ingredients typically include tomatoes, string beans, peanuts, dried shrimp, garlic, chilies, lime, fish sauce, and palm sugar. All these ingredients are pounded together in a mortar and pestle, which not only mixes them thoroughly but also helps to release the flavors. Som tam is known for its vibrant flavors and is often served as a refreshing and spicy side dish or as a main course. It is widely enjoyed both in Thailand and in various parts of the world where Thai cuisine is popular.
This recipe is my version of this classic dish.
Equipment
1 Large bowl

1 mortar and pestle

1 blender

1 Julienne shredder

1 wok
Ingredients
200

g

prawns

(raw)

200

g

scallops

(raw)

3

inches

peeled ginger root

(chopped)

4

pieces

red chillis

1

tbsp

Muscovado sugar

4

cloves

garlic

(peeled)

1

pinch

rock salt

1

tsp

black pepper

(freshly ground)

1

tbsp

fish sauce

(optional)

1

large

green papaya

large

green mango

(firm, not too ripe)

1

medium

carrot

3

pieces

limes

1

tbsp

Fresh coriander (cilantro) leaves

(coarsely chopped)

6

picees

spring onions

(coarsely chopped}

2

tbsp

sesame oil

4

tbsp

Crushed roasted peanuts

spicy paste

(made using the ginger, garlic, chilli, coriander)
Instructions
Start by peeling the carrot. Then cut the papaya in quarters lengthways and remove the seeds. Next, slice the skin off the mango. Shred the carrot, green papaya and mango into a large bowl using a Julienne shredder /slicer. Add the juice of three limes and half teaspoonful of chopped lime zest. Add a tablespoon of fish sauce (to taste).

Finely chop the ginger, garlic and chillies and mix with the Muscovado sugar using a blender and transfer to a bowl. Add the coriander leaves and the spring onions. Season to taste with salt and freshly ground black pepper. Add half of this paste to the marinating carrot, papaya and mango and mix well. Pound the salad gently to release all the flavours. Place salad mix in a fridge for 45 minutes.

Five minutes before serving, heat the sesame oil in a wok and add the remaining ginger, garlic, chilli and coriander paste. Stir fry for a minute and then add the prawns and stir fry until they have almost turned pink. Then add the scallops and stir fry for 1-2 minutes – or until the scallops are just cooked.

Add the cooked prawns and scallops to the carrot, green papaya and mango salad and mix.

Sprinkle the crushed roasted peanuts over the salad and your som tam is ready to serve.
---
---