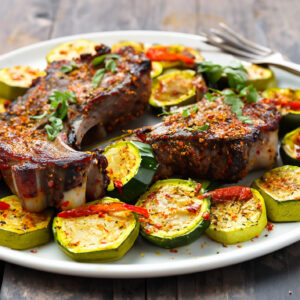 Spicy lamb chops
Imagine sinking your teeth into a succulent, crispy lamb chop that's been perfectly baked to achieve a delectable golden-brown crust. As you take your first bite, the spicy kick of a tantalizing marinade bursts forth, teasing your taste buds with a harmonious blend of flavors. Each tender, juicy morsel of lamb effortlessly melts in your mouth, leaving behind a lingering warmth that entices you to take yet another satisfying bite. The crispiness of the outer layer gives way to the tender, perfectly cooked meat, creating a delightful textural contrast that elevates the entire culinary experience. With every bite, you savor the rich, savory notes of the lamb, complemented by the robust, aromatic spices that envelop your senses in an irresistible symphony of taste and aroma. This dish is a tantalizing fusion of textures and flavors, offering a culinary journey that is both indulgent and satisfying, leaving you longing for more even after the last savory bite.
Best served with baked potatoes and a tomato/lettcuce salad with an olive oil and balsamic vinagar dressing.
Ingredients
2

tbsp

olive oil

2

pieces

red chillis

1

tsp

black pepper

2

cloves

garlic

(chopped)

1

piece

courgette

4

pieces

lamb chops

(thick cut)
Marinade
tbsp

Sriracha sauce

tbsp

Barbecue sauce
Seasoning
1

tsp

black pepper

1

tsp

rock salt
Instructions
Marinade the chops in mix of Sriracha chilli and barbecue sauces.

Place the chops onto a layer of sliced courgettes, chilli and garlic in a Pyrex dish.

Drizzle the olive oil over the chops.

Place in a preheated oven at 190C for 45 minutes or until the chops are well cooked.
---
---