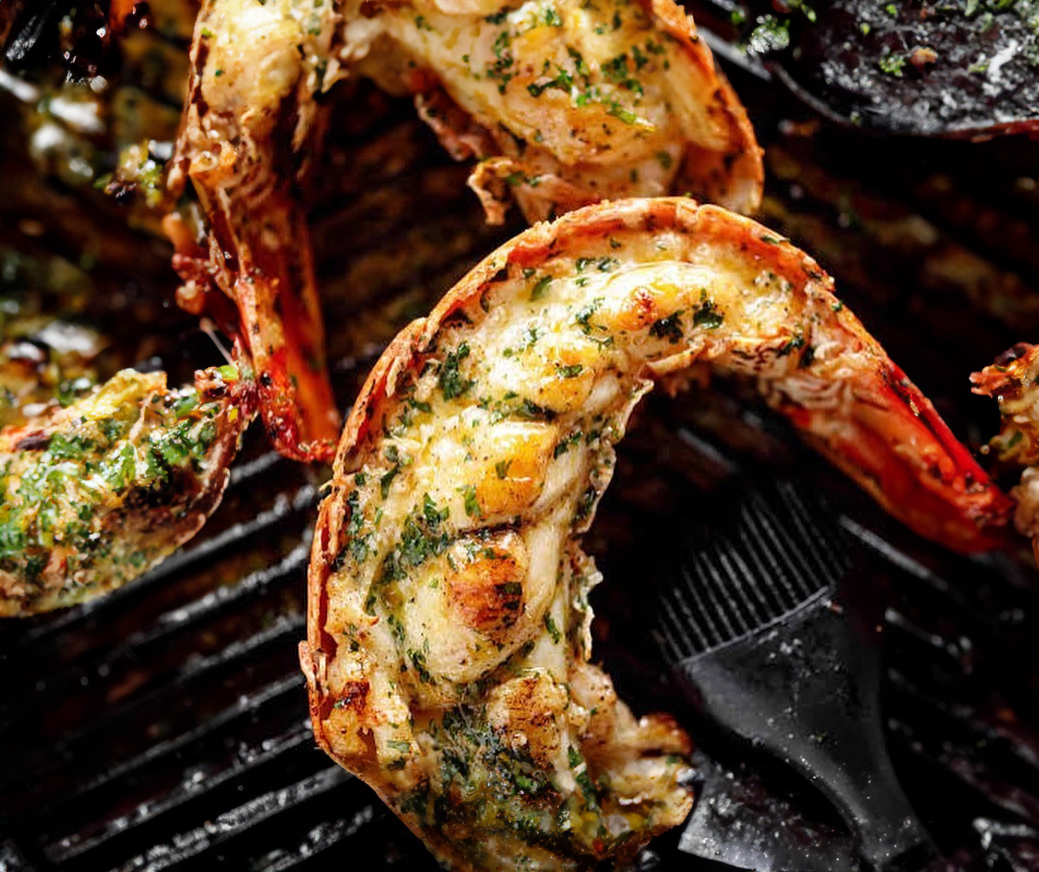 Lagos grilled lobster
Lagos grilled lobster is a popular Nigerian delicacy that involves grilling or roasting crayfish with a blend of traditional Nigerian spices and herbs. While it is not as common as other Nigerian dishes, it is still a cherished speciality, particularly in the coastal regions where lobster is abundantly available.
On both my three-week visits to Lagos in 2008, our host, Jochen Schroeter, took us to a 'bush' restaurant somewhere in the outskirts of Lagos. This involved travelling in a convoy, with our two vehicles flanked by two police vehicles carrying policemen armed with AK47s. We were served huge lobster and bottles of local lager until we had to ask them to stop. In the words of food critic/film director, Michael Winner, these were 'epic' meals.
Equipment
1 Grilling equipment (grill, oven, or stovetop grill pan)
Ingredients
Fresh lobster

Red bell peppers

Scotch bonnet peppers

(or any hot pepper of your choice)

Onions

Garlic

Ginger

Seasoning cubes

Salt

Vegetable oil
Instructions
Clean the lobster thoroughly, removing any dirt or impurities.

In a blender or food processor, combine the red bell peppers, scotch bonnet peppers, onions, garlic, and ginger. Blend until you have a smooth paste.

Heat some vegetable oil in a pan and add the blended pepper mixture. Cook until the mixture thickens and the oil separates from the pepper.

Season the pepper mixture with seasoning cubes and salt to taste.

Marinate the cleaned lobster with the pepper mixture, ensuring each crayfish is well coated. You can let it marinate for at least 30 minutes to allow the flavors to infuse.

Preheat your grill or oven to medium-high heat.

Place the marinated lobster on the grill or in a grilling pan and cook until they are fully done. The cooking time may vary depending on the size of the crayfish and the heat of the grill.

Turn the lobster occasionally to ensure even cooking and prevent them from burning.

Once the lobster is cooked and has a slightly charred appearance, remove them from the grill.

Serve the Lagos grilled lobster hot as a delicious and flavorful appetiser or as a side dish, or as a main course with Jollof rice.
Notes
Lagos grilled crayfish is often enjoyed as a snack or as part of a larger meal, complementing other Nigerian dishes like jollof rice, fried plantains, or various soups.
---
---