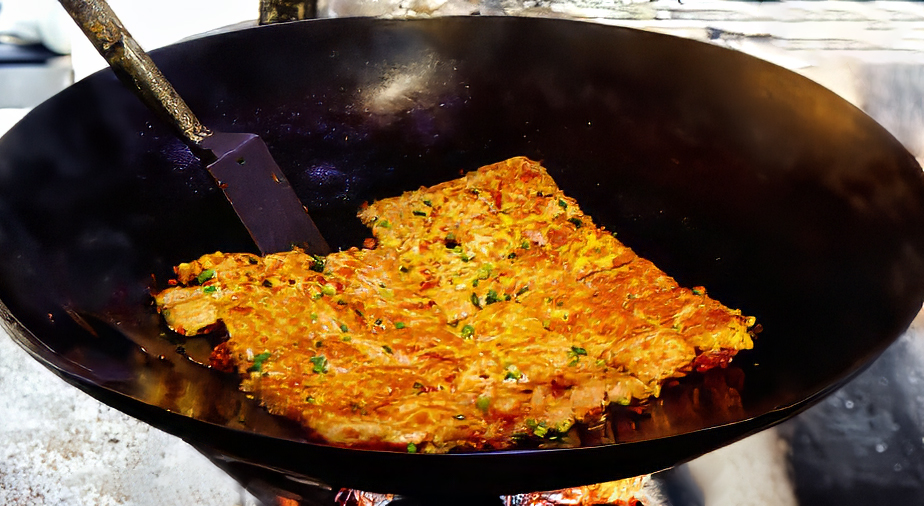 Wuhan Doupi
Having travelled south from Beijing in a sleeper train, I was hungry when I arrived in Wuhan. After checking into a hotel, I went out looking for a late breakfast and found a small market with many food stalls. The smells coming from one drew me in, and I soon found myself tucking into my first Wuhan doupi.
Wuhan Doupi Pancake" is a famous traditional dish from Wuhan, China. Doupi is a kind of street food that is popular in the Hubei province, of which Wuhan is the capital. It is a savoury pancake typically made from sticky rice, minced pork, and various other ingredients such as mushrooms, pickled vegetables, and sometimes even Chinese sausage.
Ahead of me was a riverboat that would carry me down the Yangtze River to Shanghai. Beyond that lay Hong Kong, Chengdu and two months exploring the Tibetan high plateau.
Ingredients
Pancake
1

cup

mung beans

(soaked in water overnight)

1

cup

rice mik

1

pinch

rock salt

1

pinch

black pepper

3

eggs
Filling
1

cup

glutinous rice

250

g

pork belly (or pork shoulder)

(thinly sliced)

1

cup

shiitake mushrooms

(sliced)

1

cup

of bamboo shoots

(sliced)

1

tbsp

Shaoxing wine

2

tbsp

dark soy sauce

1

tbsp

light soy sauce

1

tablespoon

oyster sauce

1

tablespoon

sesame oil

2

cloves

garlic

(minced)

1

tbsp

fresh ginger

(minced)
Garnish
Chopped scallions for garnish
Instructions
Filling
Soak the glutinous rice in water for at least 2 hours. Drain and set aside.

In a pan, heat the sesame oil over medium heat. Add the minced garlic and ginger and sauté until fragrant.

Add the sliced pork and cook until it's no longer pink. Then add the shiitake mushrooms and bamboo shoots, and continue to cook until the vegetables are tender.

Add the dark soy sauce, light soy sauce, oyster sauce, and Shaoxing wine to the pan. Stir well to combine all the ingredients. Season with salt and pepper.
Doupi pancake
Mix the mung beans, seasoning, and rice milk in a blender to make the Doupi pancake batter.

Spread a layer of batter in the hot, oiled wok to make a large circular pancake. Break the eggs over the batter as the batter starts to solidify.

Add a layer of glutinous rice in the form of a square. Cover the rice with a layer of the meat mixture. Fold the sides of the pancake over the filling to form a rectangular package.

Fry until the batter turns golden brown and crispy and then flip the pancake and fry the other side until the batter turns golden brown and crispy

Cut into squares and serve hot, garnished with chopped scallions.
Notes
This authentic recipe captures the flavors and essence of the traditional Wuhan Doupi. Enjoy cooking and savoring this delightful dish!
---
---