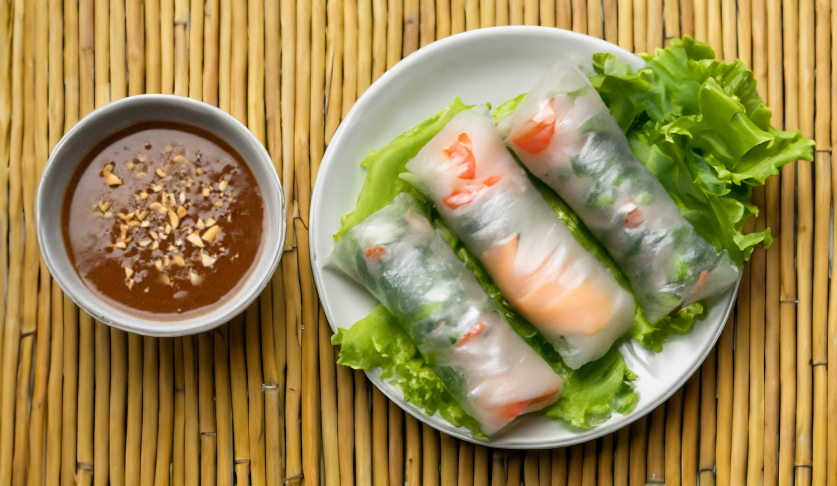 Saigon summer rolls
Saigon summer rolls (Nem cuốn) often contain a combination of fresh vegetables, herbs, and sometimes protein, all wrapped in rice paper. Different variations may include the use of different herbs, vegetables, or protein choices based on individual tastes and regional preferences.
When Vietnam, opened up in the 1990's, I was in Hong Kong, so my colleague and I went to Saigon for the weekend. With the help of a photocopy of a hand-drawn map bought in a side alley, we tracked down the address of a building used by my father (then a British army intelligence officer) as his HQ in the months after the end of WW2. The building at this address was the Foreign Correspondent's Club.
We then found a cafe for lunch, and I chose Gỏi cuốn. This was a Vietnamese spring roll comprising fresh ingredients wrapped in thin, soft, translucent rice paper. The roll was served at room temperature and was not fried like the fried spring roll. I was taken by its light and refreshing flavours, and could understand why it is a popular choice during the hot summer months.
Here's an authentic Saigon summer rolls recipe that reflects the traditional Vietnamese flavours and ingredients:
Ingredients
8-10

rice paper wrappers

1

cup

cooked rice vermicelli noodles

10

medium

cooked shrimp

(peeled and deveined)

1

cup

lettuce leaves

(torn into small pieces)

1

cup

bean sprouts

1

cup

fresh Thai basil leaves

1

cup

fresh mint leaves

1

cup

fresh coriander leaves

1/2

cup

cucumber

(julienned)

1/2

cup

carrots

(julienned)
Dipping sauce
3

tbsp

hoisin sauce

2

tbsp

smooth peanut butter

2

tbsp

water

1

tbsp

lime juice

1

clove

garlic

(minced)

1

red chili

(finely chopped)
Instructions
Prepare all the ingredients, including cooking the vermicelli noodles and shrimp, and cutting the vegetables and herbs into thin strips.

Fill a large shallow dish or pan with warm water. Dip one rice paper wrapper into the water for about 5-10 seconds or until it softens.

Place the softened rice paper on a clean, damp kitchen towel or a plate.

On the bottom third of the rice paper, place a couple of shrimp, a small amount of vermicelli noodles, lettuce, bean sprouts, cucumber, carrots, and a few leaves of each herb.

Fold the sides of the rice paper over the filling, then tightly roll up the rice paper to form a summer roll.

Repeat the process with the remaining ingredients.

For the dipping sauce, whisk together the hoisin sauce, peanut butter, water, lime juice, minced garlic, and chopped chili (if using) in a small bowl until well combined.

Serve the summer rolls with the dipping sauce on the side.
Notes
Enjoy the authentic flavors of Saigon summer rolls with this recipe! It's important to use fresh, high-quality ingredients to achieve the best taste and texture.
---
---