In 2016, the GFI Aviation group agreed that it was time for the 1989 built TB10, G-OFIT, to have a much needed respray. After a brief tendering process, RAS Completions were contracted to carry out this work. This involved stripping G-0FIT down to the bare metal, inspecting for corrosion, preparing the surfaces and then respraying the airframe. The group has already chosen the design, which was then applied to the airframe: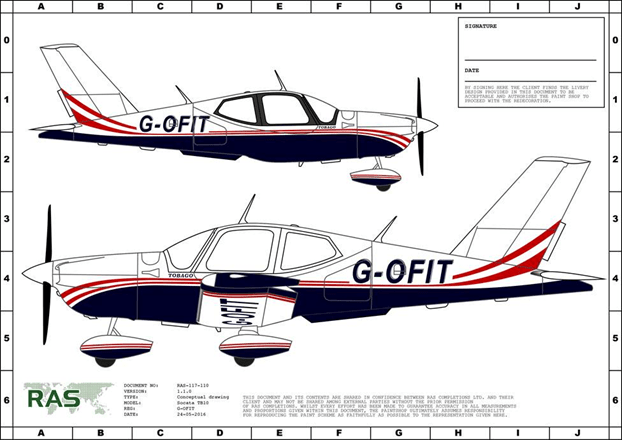 The result was an aircraft that looked brand new. Our next step is to refurbish the interior, which will involve new grey leather seat covers, new carpets and trim. This will complete the refurbishment of a much loved aircraft.
The Socata TB is a series of light single engine piston aircraft manufactured by Daher-Socata and designed in the late 1970s. All aircraft (with the exception of the TB9) have a constant speed propeller. The TB series have become widely used training and touring aircraft and are often used for instrument training.
The TB series planes have come to be known as the "Caribbean Planes", due to their island names, though they are not often seen flown in that region. They are defined by their superior (and contemporary) fit and finish and interior size; compared to other four-seat single-engine aircraft, they are relatively roomy at 49 inches (124 cm) at the shoulder, plus or minus. In part this is due to the fuselage having a pronounced "round out" above the wing. Adding to the actual spaciousness, the side windows extend up well into the roof line, giving the Socata an airy feeling.
Due to the larger fuselage, and relatively heavy weights, TB series aircraft have lower performance figures than a similarly sized and powered but narrower aircraft, and the trade-off of in speed for comfort is often cited by TB owners.
The letters TB in the name stand for Tarbes, a city in the south of France where the aircraft is manufactured.
Looked geat on my flight to Kemble in 2023.
---