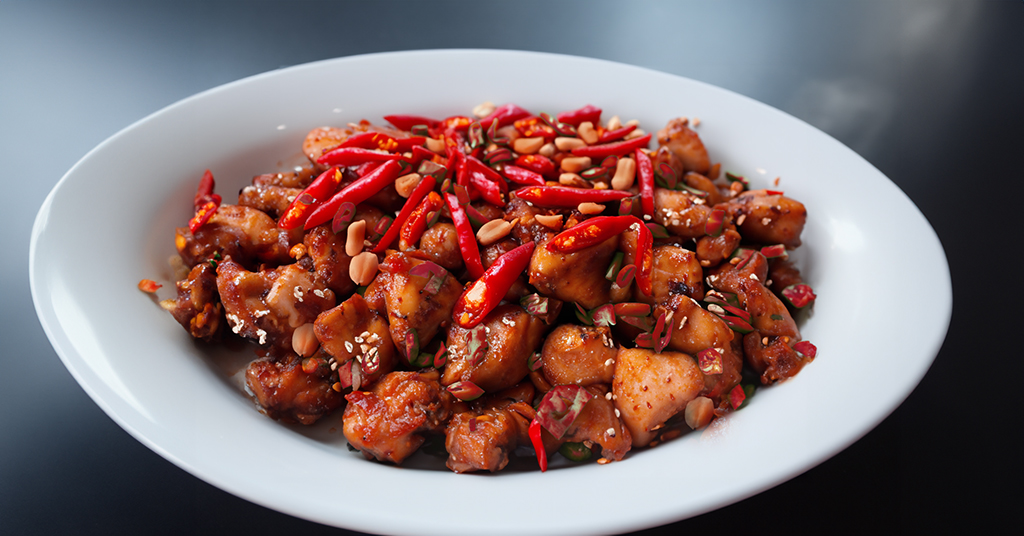 Chengdu Kung Pao Chicken
Chengdu Kung Pao chicken, also transcribed Gong Bao or Kung Po, is a spicy, stir-fried Chinese dish made with cubes of chicken, garlic, peanuts, vegetables and chilli peppers. The classic dish in Sichuan cuisine originated in the Sichuan province of southwestern China and includes Sichuan peppercorns.
The first time I enjoyed this dish in Chengdu was in 1987; it consisted of cubes of chicken, whole garlic cloves, peanuts, and red chillis stir-fried together in more or less equal quantities.
I had arrived in Chengdu after a 63-hour train journey from Guangzhou. After having to eat the good but plain food served on the train, this was an assault on my senses. After a couple of mouthfuls, I was hooked.
Ingredients
Chicken marinade
500

kg

boneless skinless chicken

(thighs or breasts, diced into 1-inch pieces)

1

tbsp

soy sauce

1

tbsp

Shaoxing wine or dry sherry

1

tsp

cornstarch
Sauce
2

tbsp

dark soy sauce

1

tbsp

Chinkiang vinegar or rice vinegar

1

tbsp

hoisin sauce

1

tbsp

granulated sugar

1

tbsp

sesame oil
Stir fry
3

tbsp

peanut or vegetable oil

6-8

Sichuan-style chili peppers such as the facing heaven pepper or seven stars pepper

(cut into halves)

3

cloves

garlic

(minced)

1

tbsp

Sichuan peppercorns

20

cloves

garlic

(whole)

1

tbsp

minced fresh ginger

1/2

cup

roasted peanuts

3-4

spring onions

(chopped into 1-inch pieces)

Salt to taste
Instructions
Chicken marinade
Marinate the chicken: In a bowl, combine the diced chicken with soy sauce, Shaoxing wine, and cornstarch. Mix well and let it sit for 15-20 minutes.

Make the sauce: In another bowl, combine dark soy sauce, vinegar, hoisin sauce, sugar, and sesame oil. Stir until the sugar is dissolved. Set the sauce aside.
Cooking
Add oil and the peanuts at the same time. Keep stirring continuously for about 5 minutes until the peanuts get really fragrant. Don't stop stirring, or they may burn. Turn off the heat and take the peanuts out. Let the peanuts cool completely; they get really hot during the cooking process, so handle them with care! After they've cooled off, the peanuts will become crunchy.

Grind half of the Sichuan peppercorns in mortar and pestle. Combine with scallion greens and set to one side.

Heat 2 tablespoons of oil in a wok over high heat. Add the marinated chicken and stir-fry until it is cooked through. Remove the chicken from the wok and set it aside.

Add the remaining one tablespoon of oil to the wok. Add the dried red chilies, the remaining Sichuan peppercorns, whole garlic cloves, and stir-fry for a few seconds until they start to darken. Add the minced garlic and ginger and stir-fry until fragrant.

Return the chicken to the wok. Pour in the sauce and stir everything together to coat the chicken evenly with the sauce.

Add the chopped spring onions and continue stir-frying for another minute or so until the green onions are slightly wilted.

Taste and adjust the seasoning with salt if needed.

Add the pan-fried peanuts. Mix for 15 seconds.

Serve hot over steamed rice.
---
---